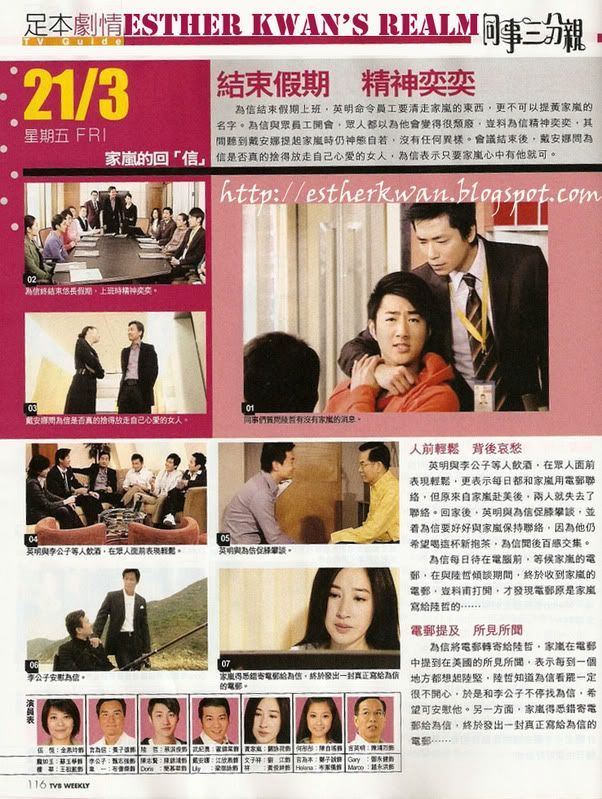 Credit

Esther Kwan's Realm

if repost SCAN.
SUMMARY BY ANIME MASTER 179002.
DO NOT REPOST ELSEWHERE.
PLEASE DO NOT USE WITHOUT PERMISSION.
同事三分親 265 -
家嵐的回『信』
Best Selling Secrets Episode 265- Ka Nam's Reply

Vincent (Geoffrey Wong Chi-Hung) finally returns to work. Ming (Chan Hung Lit) orders

Xing

's colleagues to remove all of Ka Nam (Esther Kwan Wing-Ho)'s belongings and strictly forbid everyone to mention Nam's name. Vincent attends a meeting at

Xing

, just when everything thinks Vincent is still depressed, he shows up all energetic and ready to work. Vincent acts all normal when Diana (Alvina Kong Yan-Yin) mentioned Nam's name during the meeting. Diana asks Vincent how he feels after letting his most loved woman leave, Vincent says he'll be fine as long as Nam has him in her heart. Vincent goes out for a drink with his friends, he tells his friends that he and Nam send each other an email everyday. In reality, Vincent and Nam have lost contact ever since Nam left for America. Ming and Vincent have their "father and son" talk, Ming constantly reminds Vincent to stay in contact with Nam, he hopes that Nam will become his daughter-in-law in the future. Mix emotions arouse in Vincent's heart. Vincent stay by his computer and waits for Nam's email everyday. One day he finally receives an email from Nam, only to discover that the email was intended for Jit (Vin Choi Kei-Chun). Vincent sends Jit the email from Nam. In the email Nam mentioned her experiences in the U.S. and the fact that she thinks about Kin wherever she goes. Jit knows that Vincent would be extremely unhappy after reading Nam's email. Philip (Lawrence Yan Chi-Keung) calls Vincent out and hopes to comfort and make Vincent feel better. On the other hand Nam finally realizes that she sent the email to the wrong person, she then decides to send Vincent an email...
All Esther fans be sure to check out next Friday's episode!
Posted on 03/15/08